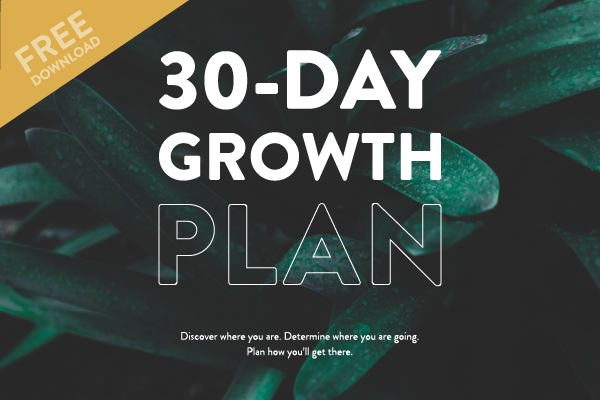 The 30-Day Growth Plan
Been looking for a way to jumpstart your personal growth? This is it.
John Maxwell's 30-Day Growth Plan includes over 40 minutes of video instruction from John himself and a complete downloadable growth plan guide. 
Organized into three distinct areas, this plan is designed to help you answer three necessary questions:
Where am I?
Where am I going?
How will I get there?
Access this guide for free now.
Monthly Mentoring with Me
Growth is a journey that requires a good guide.
Someone who knows the way, goes the way, and shows the way to your unseen potential. You can go it alone, but I believe you won't get far. That's why I've spent over 40 years learning, teaching, and refining my understanding of what we need to master our growth to become the people we truly want to be.
Join me and my mentorship community every month for a live conversation to get in-the-moment insights and answers to your most pressing challenges. It will be an opportunity for us to meet in real time as we work together to reach your greatest potential. You can share your thoughts on each conversation with my other mentees and access recordings of our most recent calls. Plus, you can ask me your questions directly during our LIVE Q&A.
WHAT'S INCLUDED
A monthly one-hour live call with me, with the opportunity to ask me your questions
Access to a private, online portal
Unlimited access to past calls on your membership platform
Ongoing participation in the online community of my mentees
Accelerate your growth. Make greater gains in your journey with a guide who knows the way.
John's Blog
My friend, let me mentor you. Sign up to receive weekly notifications about my blog. Each week I'll give you leadership lessons you can take with you as you go the journey.
FILL OUT THE FORM BELOW TO SIGN UP
Personal Growth Solutions - for YOU!
Don't miss a thing! Join the John Maxwell Company's Personal Solutions Group email list and you'll be the first to hear about exciting new resources, events, and deals!
FILL OUT THE FORM BELOW TO SIGN UP
I've written more than 100 books to help you get you where you need to go.