Your growth is the key to the life you desire, the person you were created to be. Before you do anything it is important to understand how growth happens and to be aware of the principles of growth. I spent thousands of hours developing the laws of growth so you could understand the basic foundation and principles.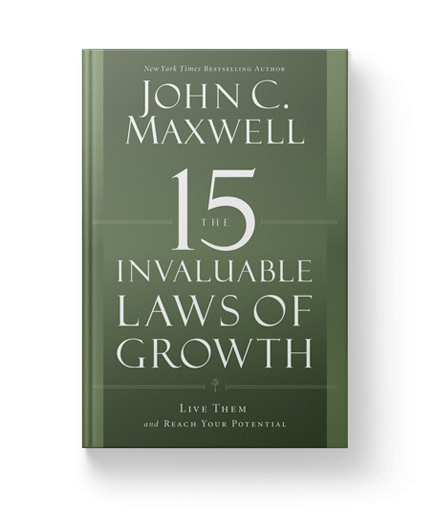 The 15 Invaluable Laws of Growth Book
This book will give you the core principles to mastering growth and fulfilling your potential. These 15 laws epitomize the time-tested truths I've seen across cultures, borders, social and economic classes, and different levels of education. My friend, it doesn't matter where you begin, it matters where you're going. Start with these truths and unlock your growth potential.
The 15 Invaluable Laws of Growth Online Class with Dr. John C. Maxwell
The 15 Laws of Growth online class is a 12-week virtual class that gives you and me the opportunity to meet together on a weekly basis to maximize your growth potential. This online class is an immersive experience into my book, The 15 Invaluable Laws of Growth, and explores the foundational principles that guide successful people. Don't be fooled – this is over 90% more material than what is inside the book – it is not the book on video. While I'll teach you the 15 principles from my book, I'll also share recent insights and additional wisdom along the way.
Over the semester, you'll meet weekly with your peers and me for 12 scheduled, interactive classes. Each 60-minute session will include a video lecture with me to share the foundations of a law and practical applications for your business and your life.
Once you are enrolled, you'll be an alumnus of the class for life. So, you can review and refine your growth in the months and years ahead. Because you'll always be stretching your potential, this course will go with you as you grow.
Monthly Mentoring with Me
Growth is a journey that requires a good guide.
Someone who knows the way, goes the way, and shows the way to your unseen potential. You can go it alone, but I believe you won't get far. That's why I've spent over 40 years learning, teaching, and refining my understanding of what we need to master our growth to become the people we truly want to be.
Join me and my mentorship community every month for a live conversation to get in-the-moment insights and answers to your most pressing challenges. It will be an opportunity for us to meet in real time as we work together to reach your greatest potential. You can share your thoughts on each conversation with my other mentees and access recordings of our most recent calls. Plus, you can ask me your questions directly during our LIVE Q&A.
WHAT'S INCLUDED
A monthly one-hour live call with me, with the opportunity to ask me your questions
Access to a private, online portal
Unlimited access to past calls on your membership platform
Ongoing participation in the online community of my mentees
Accelerate your growth. Make greater gains in your journey with a guide who knows the way.
John's Blog
My friend, let me mentor you. Sign up to receive weekly notifications about my blog. Each week I'll give you leadership lessons you can take with you as you go the journey.
FILL OUT THE FORM BELOW TO SIGN UP
I've written more than 100 books to help you get you where you need to go.